When it comes to girls hair accessories, most of us are familiar with the dainty hair barrette, the embellished headband, and the baubled bobby pin. But the halo, the head piece, and the braid charm? Not so much. Let me introduce you to some unique ways to wear hair accessories like you never have before. When bringing embellished locks back from the past with pretty trinkets and stunning head-pieces, be prepared to feel some serious inspiration, courtesy of 13 stunning pieces.
Girls Hair Accessories
Since the butterfly clips and obnoxious scrunchies of the '90s — and the brief reemergence of the headband thanks to Blair Waldorf via Gossip Girl — the hair accessory scene has remained pretty hushed. Especially compared to other booming beauty trends, á la clown contouring or choker necklaces. That said, new and chic hair novelties have slowly but surely made their way into the beauty realm. And no, I'm not just talking colored bobby pins or sparkling clips. The hair accessories of today range from charms embedded in braids to chained head-pieces that elegantly fall over your mane, and even unique takes on basic items like hair combs.
You may be shaking your head at the thought of rocking clips in your hair, but I ask you to reconsider. Once you see these gorgeous pieces, I promise you won't need any more convincing. Ahead you'll find 13 unique hair accessories that will let you deck out your locks in ways you never thought possible.
Instead of putting the headband at the top of your head, the halo is designed to sit at the back of your head, towards the nape of your neck. It may sound peculiar, and the headband may even look like it was improperly designed. But don't let that get in the way of rocking this stunning, unique style that's just as angelic as a real halo. This one falls firmly within the category of classic girls hair accessories and should be a stable in your wardrobe at all times.
If you still love the flower crown style but are looking for the latest, greatest way to rock it, look no further. Combine the flowers with the halo headband and you get the reverse flower crown. To answer your question, yes: It's totally summer festival-approved.
If you're really looking to make a statement with a halo headband, a drape might be your best bet. The style is a dramatic take on the halo look, which involves more embellishment and detail. It's absolutely stunning, but certainly not for the faint of heart. This is one of those more edgy girls hair accessories that might just get you noticed above the crowd in exactly the right way!
A stylish hair claw? Now that's a way to wear a hair clip like I have never seen before. My hair claw is a life-saver when all I want is to get my strands out of my face. Now that I know chic, stylish claws exist, I can trash my old one that's half-broken and super glued together.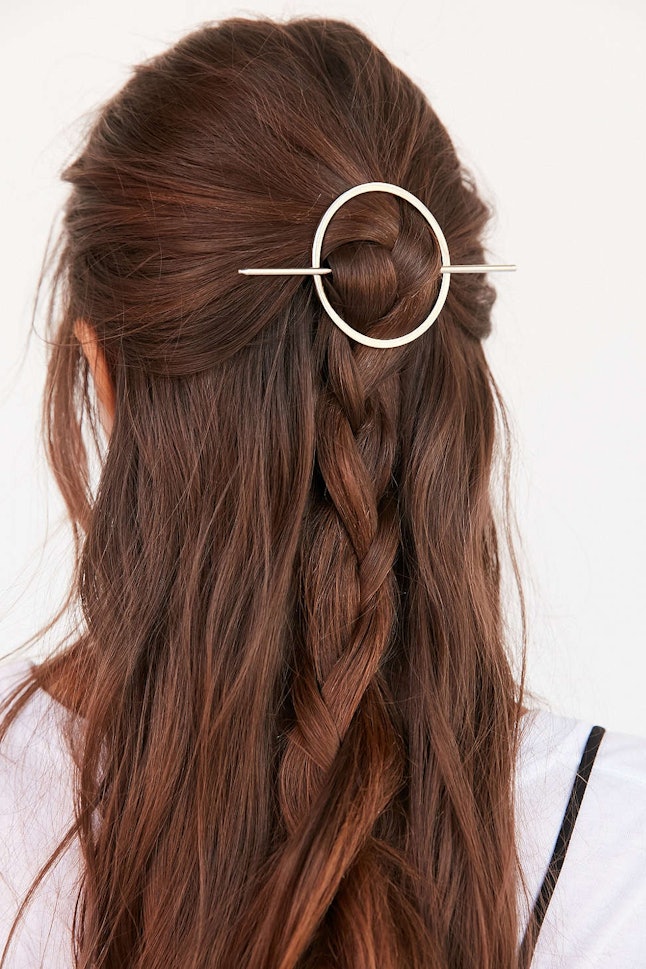 You probably never knew you needed a bun holder until now. This nifty clip isn't just a great way to keep a smaller bun in place, but it's also a pretty accessory perfect for half-up, half-down styles.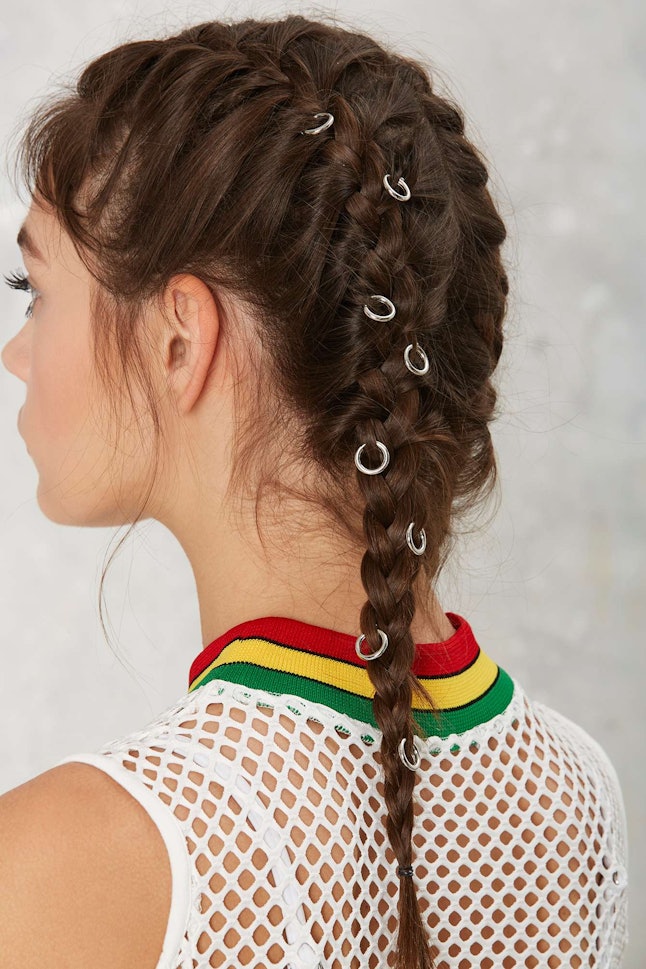 Charms aren't just for your bracelet. Clip these ones to your braid to jazz it up and add some style. Just be warned: You won't be able to wear a braid again without them.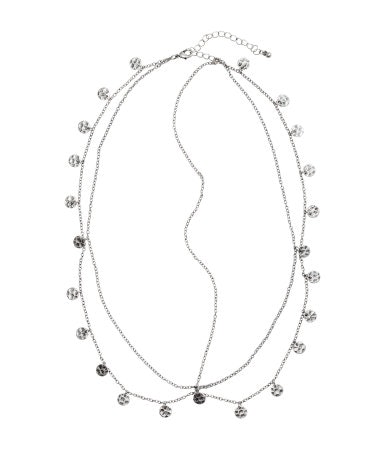 While it may take a second to figure out exactly how to wear a head-piece, there's no denying its allure and chicness. The silver charms on this one make for the perfect accessory — ideal for a bohemian summer wardrobe.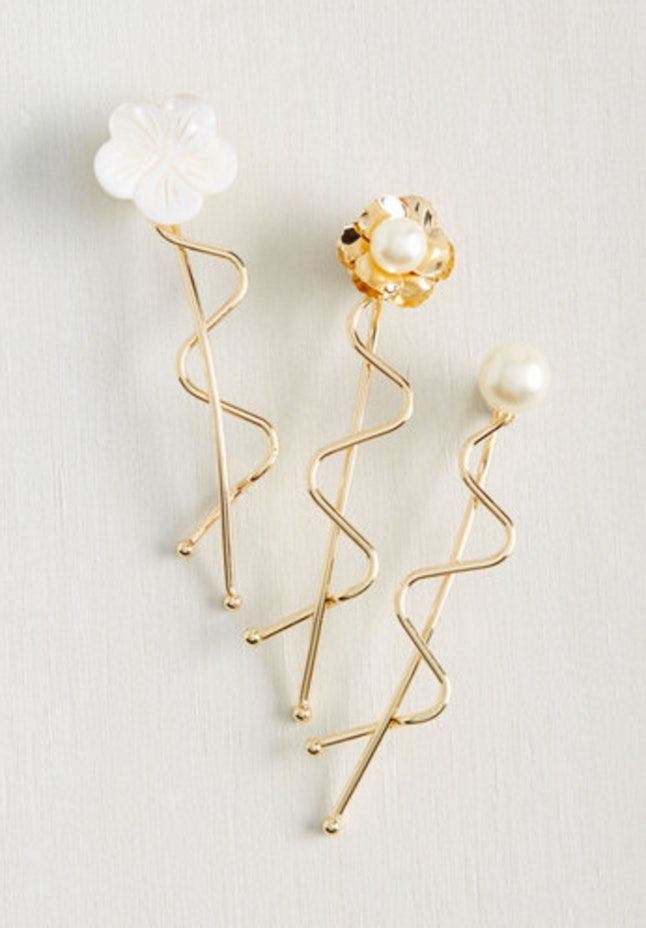 You'll never go back to bobby pins after trying these. With one flat side and another zig-zagged, these pins are guaranteed to stay put in your mane no matter what hairstyle you're rocking. But also, have you ever seen hair pins this adorable? Nope, didn't think so.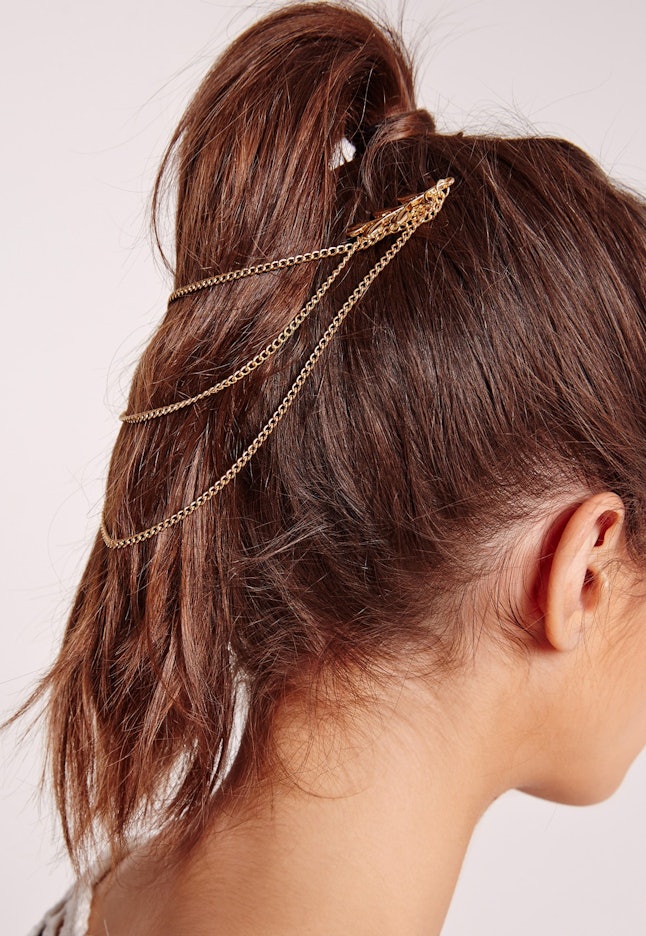 Quite possibly my personal favorite style off this list is the hair chain. With two clips at each end of a few strands of glistening chain, the style is totally unique and versatile. Clip it behind your ears, over a ponytail, or even under or around an up-do. The possibilities really are endless.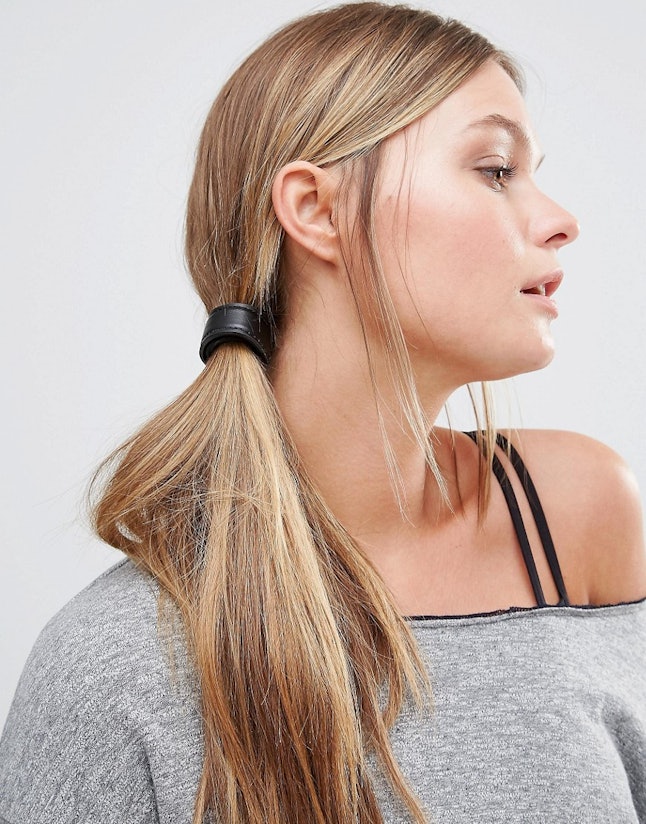 Take your basic ponytail to the next level with a chic, stylish ponytail cuff. Not only will the cuff give your pony extra reinforcement, but it'll also add some extra style and personality to your regular old hair tie. Get a few of these in your hands pronto.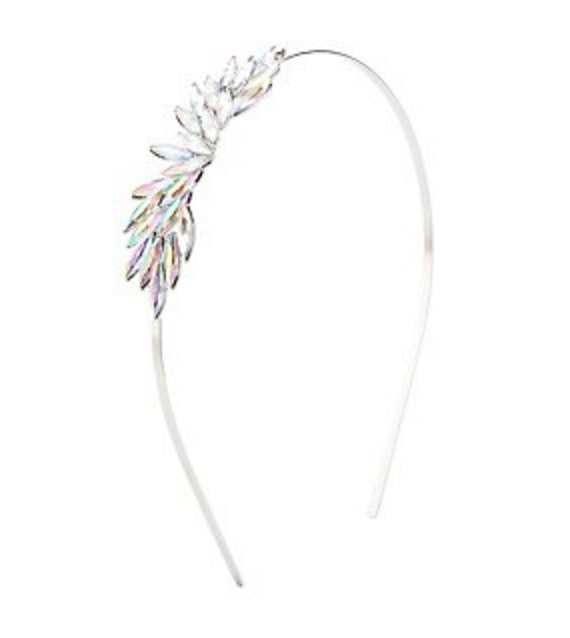 If you thought your hair accessories had to be even on both sides, think again. Whether your headband is embellished with a bow or gem stones like this one, it can make for a stunning asymmetrical style. Tip: Keep the embellishment on the wider side of your hair part.
12. Hair Comb – Girls Hair Accessories
Hair combs may be a thing of the past, but I think they're making a comeback. I mean, just look at the gorgeous leaf detailing on this one and tell me you wouldn't wear it. For any brides out there, this could also be the perfect veil accessory.
The price of this headband might seem a little high for a hair accessory, but it is quite a steal for a crown that's as beautifully embellished as this. Perfect for those days when you just feel like royalty.
So throw out those old hair ties and trash the broken clips you haven't worn in years. It's time to make space for new, updated, and totally gorgeous hair accessories. From the drape to the embellished bobby pins, there's no doubt these pieces will take your hair accessory game to the next level.
Need the right scarf to match a new hair accessory that you've recently bought, or perhaps an old favourite that's remained in your wardrobe for years? Then be sure to check out our blog post How to Choose the Right Scarf to Match Your Outfit, for some creative inspiration and guidance that should help.
We hope you've enjoyed this round-up of girls hair accessories which should be inspiring and useful to you to help you find the right pieces for this essential complement to your outfits this season.
More information about Girls Hair Accessories